About Us
Since 1945, the Holiday Bureau, a 501(c)(3) non-profit organization, has provided toys, books, games, homegoods, food, etc. to low income families of Anderson County. All of these items are received through donations from the community, and are then prepared and recycled for give-out by non-paid volunteers. Volunteers work year-round in order to create the best possible holiday experience for families in need. Although the agency's efforts are concentrated during the holiday season, assistance is given year round for those who are income eligible.
All of the volunteers who keep this organization functioning, extend a heart-felt thank you to all of those who make this project so successful. There is always an open invitation for others in the community to get involved.
No person is ever paid. No items are ever sold. We are a purely volunteer organization.


Mail Monetary Donations to:
P.O. Box 7120
Oak Ridge TN, 37831-7120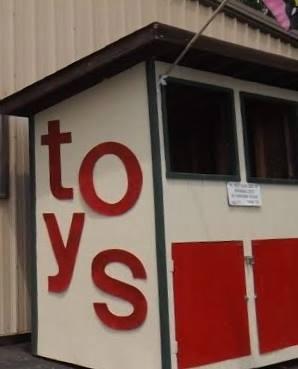 THANK YOU
The Holiday Bureau would like to thank the following businesses and individuals for their generosity this year.
The following businesses provided food for our volunteers during our Christmas toy give out. Big Ed's Pizza, Outback, Applebee's, McDonald's(Turnpike), Chic-Fil-A, Red Lobster, Buddy's BBQ, Wendy's, Dicky's BBQ, Olivers Catering, Dunkin Donuts, and Starbucks.
The following businesses and organizations collected or purchased toys for us this year. National Fitness members & staff, Kern Methodist Church, Cash Express, Lions Club, Oak Ridge Nursery School(Sharon Hamblen), Oak Valley Baptist Church, TN. Dept. of Environment and Conservation, Oak Ridge/ Knoxville Women in Science And Engineering Program, St. Therese Catholic Church-Clinton, and Children First Steps Development Center.
Many individuals also donated new and used toys and non-perishable food to us this year, for which we are very thankful.
Monetary donations were given by Food City Corp., Faith Lutheran Church, Atkins(Isotek) Employees, Atkins(Isotek) Corp., Enrichment Credit Union, Cumberland Presbyterian Church(Ruth Circle), Kiwanis Club of Oak Ridge, Anderson Co. Chapter of Knoxville Area Realtors, and Emory Valley Garden Club.
Also Monetary donations from Milton Sealand, RJ & Mary Campbell, Ruth & Woody Gove in Honor of Peggy Tague, Maureen & Hal Hoyt in Honor of Jean & Robert Anderson, Barbara J Mook, Charles & Nancy Coutant, Samuel & Karen Pelchar, Joseph & Thelma McGrory, Judy Van Winkle, Martin Bauer, Roland & Mitzi Friedrich, Jeanette Gilbert, Joe & Bobby Arrowood, Harris Heald Charity, Sandra Whitten, Sheila Norton in Memory of Sheila Saltmarsh, Michael & Debbie Magill, Donna Hawley, Brenda Leek, Frances Costner in Memory of Robert A Costner, Thomas Bowers in Memory of Jim Bowers, Robert & Diane McKinney, Roger & Glenna Derby in Memory of Sandy Robson, Janet Robertson, Theresa, Don & Patrick McKendrick in Memory of John McKendrick, Debbie & Jim Gibson in Honor of Phil Gibson, William & Margaret Baldauf, Paul & Carol Smith, Michael & Nancy Vudragovich, Anonymous in Honor of Eddy Bailiff & in Memory of Don Kelsheimer and Buzz Muckenthaler, Michael Saltmarsh, Barbara Stanfield, Ann Mostoller, D.W. & P.L. Ellison, Jill McNutt, Steve and Shirley Cates, Jerome and Nancy Delene , Nancy Hardin, Marian Varner and 3 Anonymous donations.
The Holiday Bureau runs on the generosity of others.
The following are items that we are always accepting:
Electronics: Radios, CD & DVD Players, Calculators, Computers
Christmas Trees, Decorations, Lights, and Wrapping Paper
Jewelry and Jewelry Boxes
Small Household Items: Knick Knacks, Pictures, Etc.
Repairable Used Toys, Books, and Games
New Toys, Books and Games
Bicycles, Tricycles, and Riding Toys
Non-monetary donations may be brought in during business hours or placed in "toys" box outside of building.